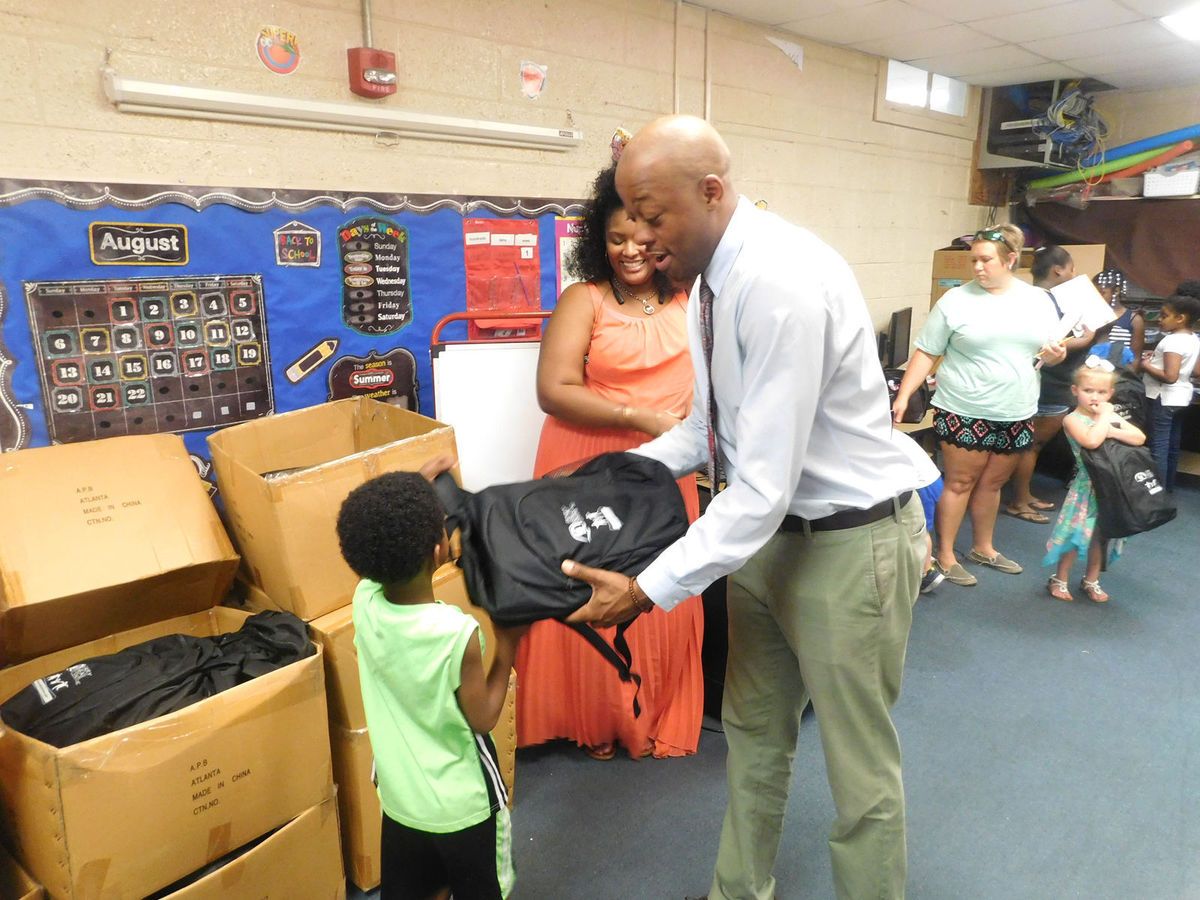 Whitney Johnson, Medicaid eligibility specialist with Family Health Centers Inc., presents a book bag packed with school supplies to a student at Denmark-Olar Elementary Thursday evening. Looking on is kindergarten teacher Kayla Carter. FHC distributed 65 book bags during the event.
DENMARK - Sixty-five book bags filled with school supplies, along with information about how to apply for Medicaid, were distributed to students of Denmark-Olar Elementary School and their parents by Family Health Centers Inc. on Thursday evening.
FHC Inc. is distributing the school supplies and information to hundreds of students in its four-county service area prior to the opening of the 2017-2018 school year. To date, the agency has given away 650 book bags to students in Bamberg, Orangeburg, Calhoun and Dorchester counties.
In addition, FHC gave 400 water park passes to Pre-K students. The passes can be used at the Orangeburg County YMCA or the Santee YMCA.
Kayla Carter, a kindergarten teacher at Denmark-Olar Elementary, said, "We are very appreciative of Family Health Center making a donation to the kindergarten classes."
"It was a blessing. I hope the kids enjoy the school year," said Tamara Faust, one of the parents attending the event.
"I love them, and hope the children enjoy their school year with them," parent Soavia Stroman said of the book bags and supplies.
"The Family Health Centers Inc. was awarded funding by the Centers for Medicare and Medicaid to assist eligible families with applying for Medicaid in our service area," said Carolyn Wigfall, FHC director of Community Relations. "The book bags are being given to the schools that have partnered with FHC to ensure that every child has access to health coverage if eligible for Medicaid."
Wigfall added, "Like Family Health Centers, these schools believe that having coverage improves children's health, their ability to succeed in school, and results in other positive outcomes.
"A healthier child leads to a happier child that will be ready and eager to learn each day."