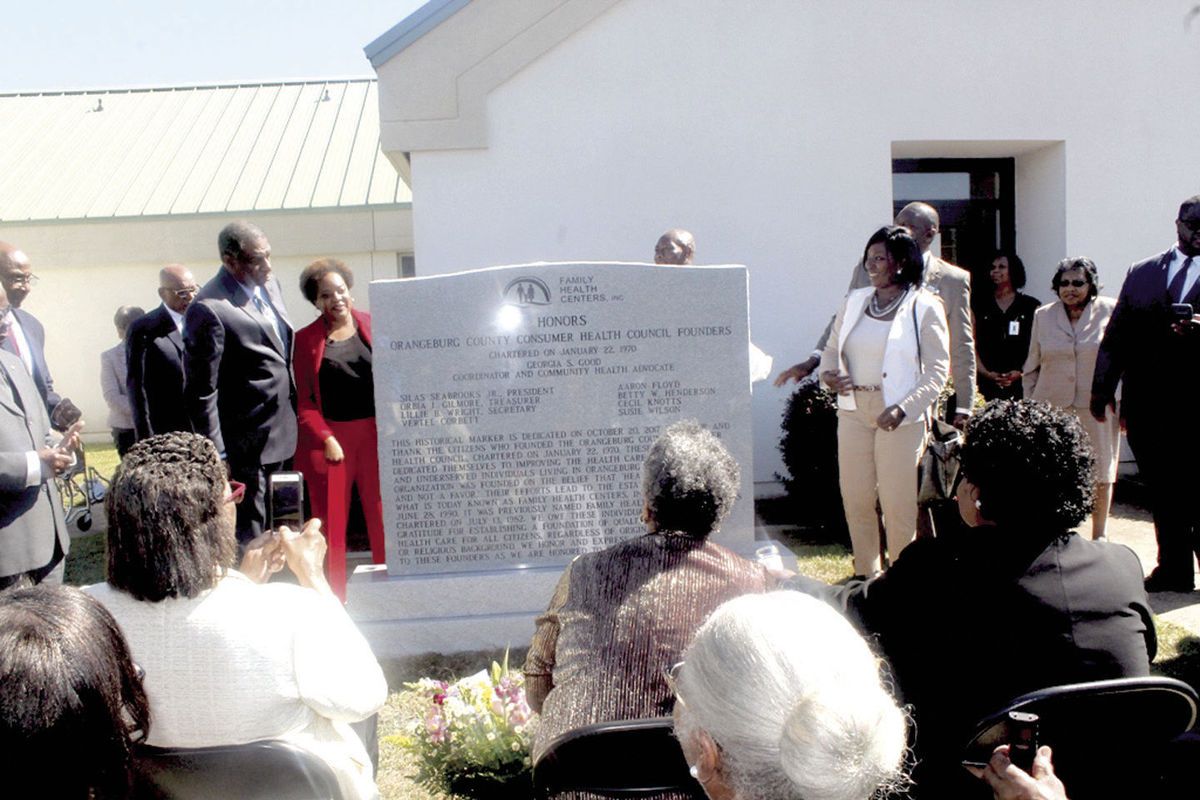 One of the state's largest community health centers honored a community activist and members of a grassroots group dedicated to providing rural health care to underserved communities during a program on Friday.
Family Health Centers Inc. began as the Orangeburg County Consumer Health Council, which was founded in September 1969 and was chartered in January 1970.
The center is now part of the National Association of Community Health Centers Inc. The association represents the nation's network of more than 1,000 federally qualified health centers serving more than 20 million people throughout its sites.
The FHC held an awards program and historical marker dedication honoring the founders of the Orangeburg County Consumer Health Council on Friday. The program was held at the Roquemore Auditorium on the campus of Orangeburg-Calhoun Technical College.
Following a reception, a massive granite historical marker honoring the founding members of the Orangeburg County Consumer Health Council was dedicated in front of the FHC at 3310 Magnolia St.
Members of the Orangeburg County Consumer Health Council included: Georgia S. Good, Silas Seabrooks Jr., Betty W. Henderson, Cecil Knotts, Orbia I. Gilmore, Aaron Floyd (deceased), Lillie B. Wright (deceased), Vertel Corbett (deceased) and Susie Wilson (deceased).
The late Dr. Thomas Moss, a community activist and former senior aide to the late Sen. Strom Thurmond, was also honored at the program for helping to secure a $300,000 federal grant to keep the organization afloat in 1972, when it was renamed Family Health Center.
State Sen. John W. Matthews served as the program's keynote speaker, thanking the founders for their vision and persistence and touting the power and importance of community activism.
"What makes the difference in life is what you act upon and what you produce. Let their work be an example for the rest of us that are here. We now see the benefit of all that hard work," Matthews said.
He said the struggle for access to quality health care, however, is not over.
"There are those in Washington trying to take it down. The first to be hurt are the people that you now serve. Our work is not over," Matthews said, noting that ensuring quality health care for all will take a "multigenerational" approach.
"The reward is the service we give to those we intend to serve," he said.
Henderson, a Branchville resident, said, "I'm just elated that the opportunity has arrived that we will be recognized for being the founders. Every journey begins with one step, and we were the beginning steps for Family Health Center. I'm grateful to the board of directors and to the CEO that they found in their heart to do the right thing and look back and discover their history and make us part of it."
She added, "One of our ideas was that when we started the center, that we would've given people life skills and an opportunity to go to school and become CNAs and nurses or whatever in our centers. Ella Riley serves as an epitome of what we thought the center should be. She started with us years ago as a clerk, and now she's the director of HR. So our dream has been fulfilled. Georgia has worked extremely hard. It was through her leadership that we made it as far as we had gotten."
Henderson said she is proud of the "remarkable job" the FHC has done, adding that it had "certainly set out do what we aimed for it to do and more."
The FHC has its main site on Magnolia Street in Orangeburg, along with six satellite sites in Denmark, Vance, Holly Hill, Norway, St. Matthews and St. George. A new freestanding facility in Denmark will be dedicated later this year. FHC had a total economic impact of more than $26 million last year.
Knotts, a North resident, said he was elated at how far the FHC has come from its humble beginnings.
"It has really grown since its inception. To be recognized is not a bad thing because back in the day, we did not have any health care in the outlying rural area. We used to meet at the Zimmerman Health Center right down from South Carolina State (University)," said Knotts, who recalled how he got started in the grassroots work for better health care.
"Back in the day, I had a lot more energy, and I guess the civil rights movement was kind of like going along at the same time. We were underprivileged on every end, and we thought that if we could improve our health, we could improve our lives. That's how I became a part of it," he said.
Adult medicine, pediatrics, podiatry, OB/GYN and dental are among the services the FHC provides. The center employs 166 and has a current total economic impact of $21,985,537.
Good praised her fellow team members for their relentless commitment to improving health care access. She said she was hired as a community organizer for the Washington-based Transcentury Corp., which had received a grant from the U.S. Department of Health, Education and Welfare, or HEW, in 1968 to look at the nation's health needs, including those in the rural South.
"These people stood with me. It has been easy. I'm not a quitter," she said, noting that her parents were big influences on her life of service.
Gilmore, a 91-year-old Bowman resident, said while the council's work involved "a lot of going," it was worth it to help make the FHC what it is today.
"It's a good group of people. It's always good to be able to help somebody," he said. "Back then, people would try to help each other. I tried to help somebody else. I'm glad to know that it's still up and going."
Dionne Gleaton
T&D Staff Writer
The Times and Democrat
PO Drawer 1766
Orangeburg, SC 29116
(803) 533-5534 Fax: (803) 533-5595
First.Best.